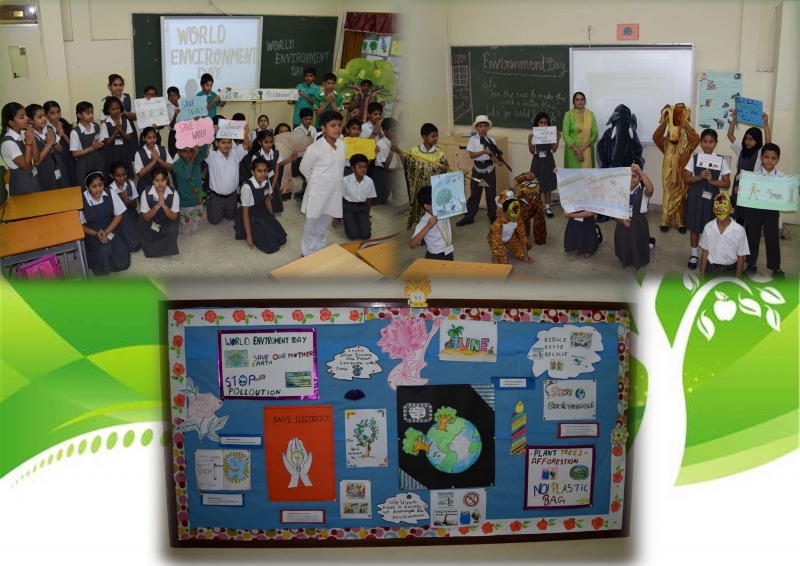 ISS marked the World Environment Day on 5th June'16 with a great deal of energetic involvement. The theme of the year 2016 was "Fight Against the Illegal Trade in Wildlife."
The scorching sun failed to deter the enthusiastic students as they came out with numerous presentations in their respective classes depicting their sensitivity towards the global environment. The primary section showcased their creativity in the form of Poster Making, which was a thought provoking riot of colours and slogans. The middle section had various activities including speeches, quizzes and even sowing the seeds in a pot. Nature Song was sung in most of the classes to reinforce solidarity with the environment. Skits focusing on the harmful effects of deforestation, especially on wildlife were also staged and students dressed as trees and animals lent authenticity to the script.
The Eco Club of the school carried out Tree Plantation in the school premises. The staff turned out in full support of the students' initiatives by dressing up in green. The students at all levels understood the need to protect the environment and work towards the same with renewed zeal. Principal, Mrs. Sanchita Verma, encouraged the students in their efforts and ensured maximum participation by means of individual class assemblies. The event proved to be a grand success as the message sent out was received wholeheartedly.
For more photos Click here